Carol Chapman | Martial Arts Instructor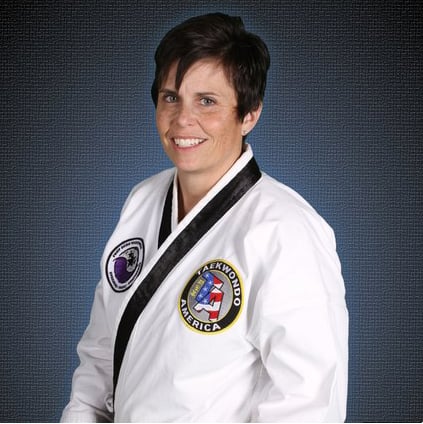 Carol Chapman
Carol Chapman, a 5th Degree Black Belt and Level 4 nationally-certified instructor, began Taekwondo in 1997 at the "young" age of 30 after looking to find something challenging, motivating, and fun to get back in shape after her youngest began pre-school. One class was all it took before she was hooked and began her career in taekwondo. After earning her probationary black belt in 2000 at Fishers Martial Arts in Fishers, Indiana, Mrs. Chapman became a volunteer instructor and taught at Fishers Martial Arts until she and her family moved to the Katy area in 2009.
She opened Fort Bend TaeKwonDo in April, 2010 and continues to teach each class daily in addition to teaching at several area private schools for children with special needs.
Before becoming a school owner and while her 2 children were younger, Mrs. Chapman was actively involved with her son's Cub and Boy Scout troops and led her daughter's Girl Scout troop for 12 years. She served as a kindergarten teacher's aide and substitute teacher in the Carmel Clay School district as well as Gymboree Play teacher and manager of a mystery shopping company before moving to Katy.